samsung galaxy note 9 quiz answers win Samsung galaxy note 9 for free. there is only one lucky winner to grab the samsung galaxy note 9. 2nd december
Just have to answer 5 questions and the answers are updated below.
How to play samsung galaxy note 9 quiz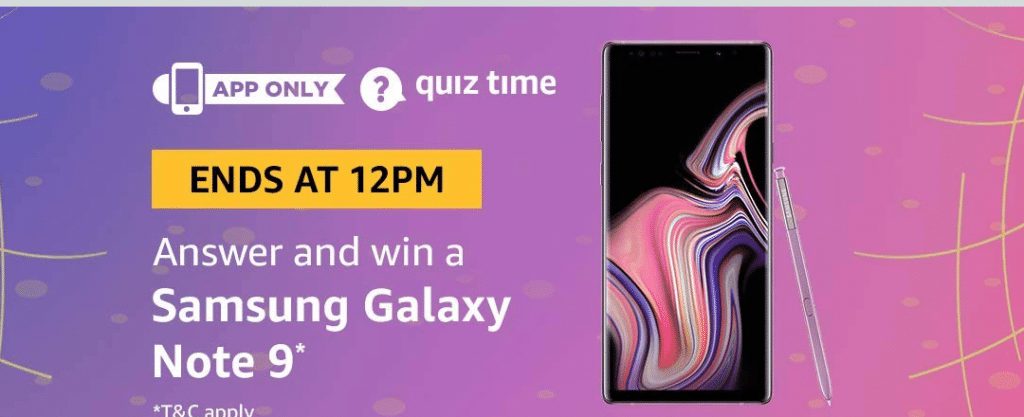 Download the Amazon app from the google play store.
Log in or Sign up your account.
You will see the Amazon samsung galaxy note 9 quiz Banner on the bottom.
Click on it.
answer the 5 simple questions and you may be the lucky winner.
Samsung galaxy note9 quiz answers.
The offspring of a zebra and a donkey is called a __. Fill in the blanks.
Answer. Zeedonk
The Koala bear's diet mainly consists of eating __. Fill in the blanks.
Answer. Eucalyptus Leaves
Sea Otters hold hands while they're sleeping
Answer. True
What is the main component used in the manufacture of glass?
Answer. Sand
How many fights did Muhammad Ali lose in his professional boxing career?
Answer. 5
terms and conditions for samsung galaxy note 9 quiz
This Contest will commence on 2 December from 08:00:01 a.m. (IST) to 12:00:00 p.m. (IST) ("Contest Period")
In order to be eligible for the Contest, during the Contest Period you must sign-in to or sign-up from an account on the Amazon.in App ("Amazon.in App").
Once you have signed-in to the Amazon.in App, you can participate by navigating to the page where 5 (five) questions will be posted during the entire Contest Period.
Thereafter, if you answer all the quiz questions correctly, you will be entitled for a lucky draw which will be carried out amongst participants who have answered that particular question correctly.
The draw of lots will be carried out during the Contest Period for the questions and a total of 1 participant will be selected as winners by a random draw of lots.
The declared winner(s) will be eligible for winning Samsung Galaxy Note 9 (hereinafter referred to as "Prize(s)").