Yulu cycle Referral code "5K0GZ2D". Gift your friends one healthy free ride and get one ride free each time you refer. The ride is free for the first 30 mins for yulu move and first 10 mins for yulu miracle.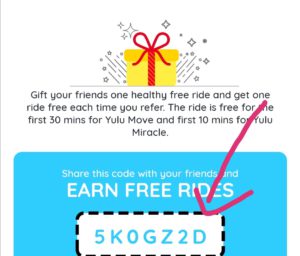 How to apply yulu Cycle referral code in app
Download yulu app from playstore.
Open the app
Enter your mobile number.
Now enter your mail id and new password.
In this page verify your mobile number with otp and enter this Yulu Cycle referral code "5K0GZ2D".
That's it you have successfully applied referral code. Now you will get your first ride for free.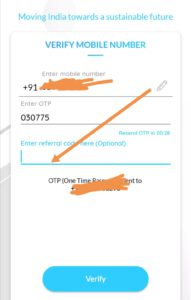 Yulu tariff
There are 2 different cycles available in yulu one is Move and another one is miracle.
Also test Drive Vogo, Drivezy, Rapido, Quick Ride.
Move cycle tariff
Ride Charge
₹10 for first 30 minutes
₹5 for every subsequent 30 minutes
Pause Charge
₹5 for every 30 minutes
₹30 maximum during Yulu KEEP (6:00pm to 10:00am). Keep it safe with you at home
Security Deposit
₹100 security deposit* is mandatory
refundable
Miracle cycle tariff
Ride Charge
₹10 to Start
₹10 for every 10 minutes
Pause Charge
₹5 for every 10 minutes
₹90 maximum during Yulu KEEP (6:00pm to 10:00am). Keep it safe with you at home
Security Deposit
₹250 security deposit* is mandatory
*refundable