Phonepe by Flipkart is a leading mobile app. By referring phonepe app to your friends and family. You will Get 1000 rupees worth phonepe scratch card and your friend will get 1000 rupees worth scratch card.
Phonepe referral link or (code)
Phonepe referral code (Bookofer), Get 1000 rupees worth scratch card on 1st UPI transfer, refer and earn another 1000 rupees worth scratch card per refer you can refer unlimited friends. There is no referral code for phonepe like google pay you have to download from the below link.
Now a days phonepe refer and earn terms changes regularly. Some times they are giving nothing to both users. Try your luck you may get scratch card.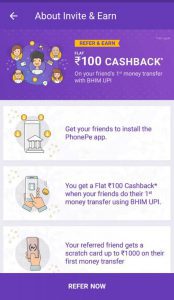 Download phonepe app from below link.if you already download the app then just uninstall it. you have to do this before your 1st transaction on phonepe.
Open phonepe app, click on register.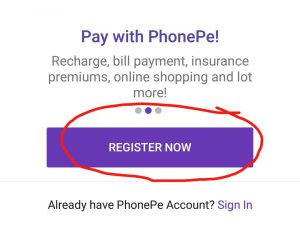 Enter your mobile number which is linked to your bank account, after that enter your name, finally set a 4 digit pin to login to your phonepe app.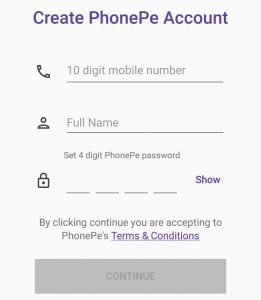 Login to your phonepe app. Click on my Money at the bottom of the app. Check the image below. Then click on bank accounts option.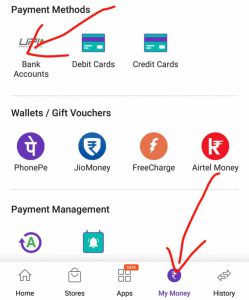 Click on Add New Bank account on this page. Phonepe app needs to verify the sim in your phone. So Keep SMS Balance are main balance in your sim.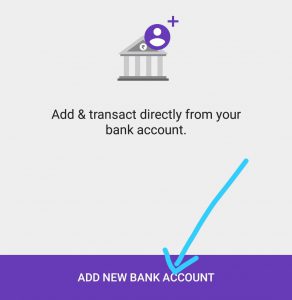 Select your bank account and set a UPI pin. You are New to Upi transactions. App ask you to enter last 6 digit card number and Expiry Date. Enter it and DO your 1st transaction.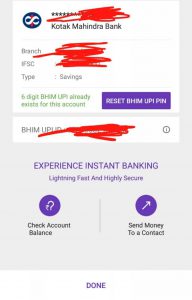 Finally, you will see like this. Click on send money to contact and send at least 100 to any of your friends. You must have to send to phonepe user to get scratch card.
If you download from the above phonepe referral link you will get card. if not you will get normal scratch card.
Dont search for option to apply phonepe referral code. there is no referral code option like in phonepe
You can see your scratch card on view my rewards. Scratch the card. Good luck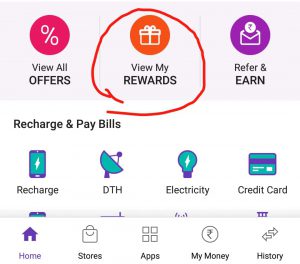 Check out Google pay app similar to phonepe Get 51 on Sign up and refer and earn up to 9000.
Transfer money to your friends and get 1000 rupees worth scratch cards 10 per week.
If you want to transfer phonepe cashback to your bank account I will tell you a trick in below.
Terms and conditions for Phonepe referral code
What is the offer?
Referrer will receive a scratch card (minimum ₹75) up to ₹1000, when the referred user does their first money transfer through UPI on PhonePe for the first time.
A referred friend is a user who has installed the PhonePe app after clicking on the phonepe referral link of the referrer.
What is the eligibility criteria for phonepe refer and earn?
phonepe Referred friend must do their first ever money transfer to a PhonePe user (using phone number or a person with a '@ybl' BHIM UPI ID)
Minimum value of the money transfer must be ₹100
First ever money transfer must not be to a non-PhonePe BHIM UPI ID
Referred friend must complete their first ever money transfer within 15 days of signing up on PhonePe using the referral link.
This offer is not available in the state of Tamil Nadu (owing to the Tamil Nadu Prize Scheme (Prohibition) Act 1979) and other states wherever prohibited by law.
How to get phonepe referral link are code
First of all if you are new phonepe user just download form Play Store.
Simply click on profile > my referral earnings >invite your friends.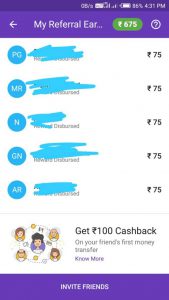 You will get like this click on invite friends and just share your phonepe referral link are code with your friends.
Hey, must have to download phonepe app with your phone referral link and must have to do an UPI transaction of a minimum of 150 or more to any phonepe user.
The cashback will be credited to your phonepe wallet within 24 hours.you cannot withdraw that cashback amount to your wallet.
You can use that money to pay at swiggy or Flipkart and many services which accepts phonepe.
how to transfer phonepe cashback to bank
At the beginning of the phonepe we can transfer the cashback amount directly to the bank account but now officially you can't transfer the amount to your bank. but i will tell you a trick to transfer amount to your bank.
You have to buy gold with the cashback amount sell it on another day you will get your cash back to your bank account in detail below: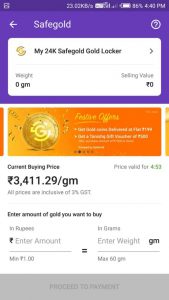 Scroll to the bottom of the phonepe app.
Here you can see the gold option click on it. After that select safe gold buy the gold with your cashback and sell it on next day.
You may lose some amount around 4 rupees per hundred but you will get your amount to your bank account.
Phonepe transaction limit per day
phonepe transaction limit per day is 1 lakh. you can't send more than 1 lakh to any user.
Either in google pay or in google pay are any other UPI apps.
Every UPI app has a limit of 1 lakh per day. most of the banks have the same limit but some banks have a limit of only 50,000 per day.
If you want to send more money you have to wait for the next 24 hours.