OneCard Referral Code – VMAZAS9CJ. Apply this code while creating an account and get a Free metal card and many other benefits. We recommend you download it from the below referral link.
| | |
| --- | --- |
| OneCard referral code | VMAZAS9CJ |
| Signup benefit | Free Metal card |
| Refer & Earn | up to 2k |
| Onecard Referral link | Download |
| Maximum refers in month | 20 |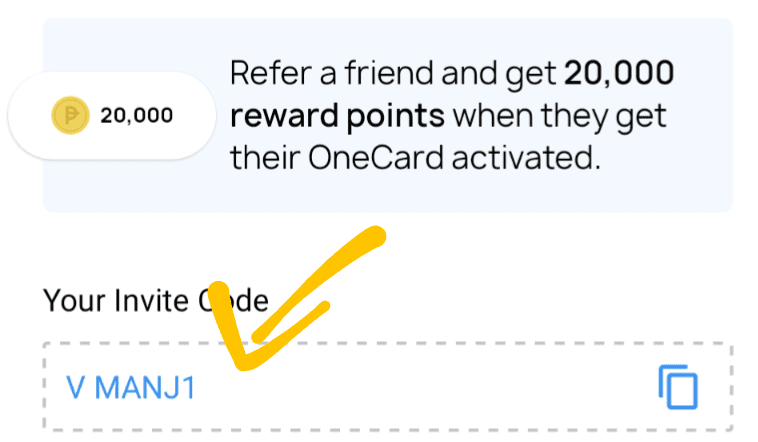 Requirements to open a OneCard account
Good Credit score or minimum 2k money to open FD (Fixed Deposit).
Aadhaar card linked with a mobile number.
Pan card.
How apply the OneCard referral code
We don't see an option to apply the OneCard referral code. If you see apply this referral Code – VMAZAS9CJ.
Download the OneCard app from here. You don't need to apply the code manually.
How to Create a OneCard account
Download the OneCard app from the above link.
Open the app and click on Get Started.
Now Enter your Mobile number we recommend you to enter your registered mobile number with Aadhaar.
if you want OneCard future communications on WhatsApp select it and click on Get OTP.
Verify your mobile number with OTP.
After verification click on Start Application.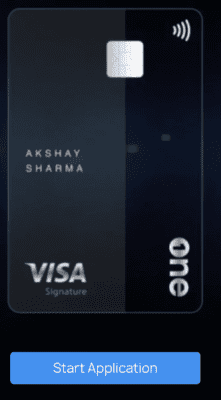 Now you have to Verify your Email Id. You can log in with Gmail, Microsoft, and Yahoo.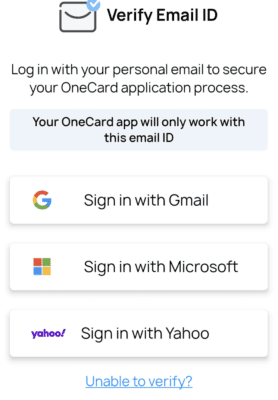 You have to set a password for OneCard. Set a 4 digit password and also enable Fingerprint.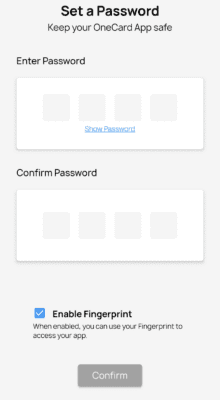 Confirm your details like Your First Name, Last Name, Date of Birth and Gender.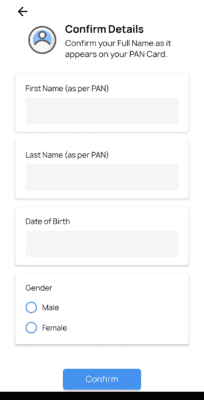 Enter your Current address details for card delivery. Your Pincode, house number, area, Land Mark.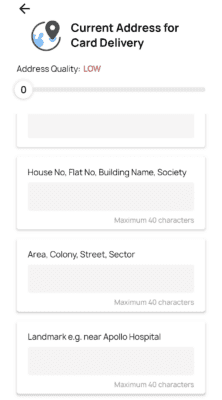 Now confirm your PanCard number enter your pan card number and Re-enter it again for confirmation.
On the next page confirm your all details. Before they fetch for CIBIL Score & Experian reports.
Check your Pan Number, Name, Date of birth, and your current pin code. Finally agree to there terms and conditions.
They will fetch your CIBIL Score. It may take up to 2 minutes.
You will receive an OTP from CIBIL To your registered mobile number.
They might ask for any other details like the address. Confirm it.
If you have enough credit score you will directly get your OneCard metal credit card. If not you have to open a FD (fixed deposit).
How to open FD ( FIXED DEPOSIT) in OneCard
If you deposit over 50 thousand you will get a free metal card and 110% credit limit. The minimum deposit amount is 2000 Rupees.
Pay your Credit card bills on Cred, amazon, and Get extra rewards.
While creating a OneCard account you will see verify your income and Create FD (fixed deposit). Select Fd.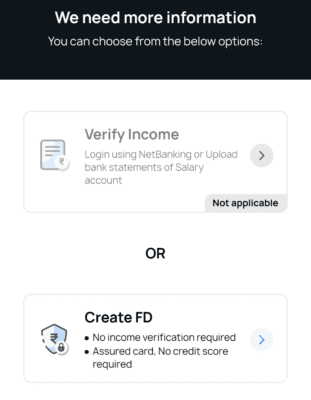 Next Select your FD Amount. The minimum deposit is 2000. You will get a free OneCard metal card when you deposit a minimum of 5000 and above.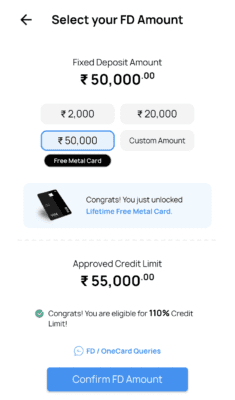 Enter your details like Marital Status, Occupation, and Annual income and Select yes or no for Are you a / relative of a politically exposed person.
Verify your identity using your aadhaar number and set a 4 digit password for it.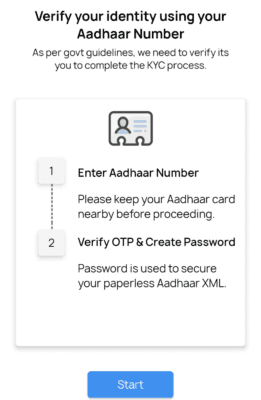 On the next page enter your aadhaar number and password. Verify it with OTP.
From now on there will be a few more steps like selecting your amount and Entering your bank details.
Add money from the registered bank account only.
They will take some time for approving the Onecard account.
OneCard Refer & Earn
Onecard refer & Earn offers 100 – 2000 per referral. They change referral money every day and check the offer before referring.
To Refer your friends to OneCard Click on the Gift option and Then click on Refer friends option.
You can check your OneCard referral code in the Message.
We recommend you refer your friends through the OneCard referral link.