Intermiles quiz a thon answers today, 29 July – 4th August. answer 6 simple questions and win 50 intermiles every week.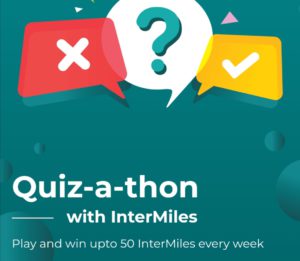 quiz answers of Intermiles quiz a thon
Answer a minimum of 4 questions correctly and get 50 intermiles (or) Raffle ticket. Remember Questions are not the same for everyone.
Mostly they will ask from these 8 questions.
_____ is where the headquarters of the International Olympic committee located.
Reply Lausanne, Switzerland
2.  What is the size of the Indian contingent at the Tokyo Olympics 2020?
Reply: 228
3. _____ is the motto of the Tokyo Olympics 2020.
Reply: United by emotion
4. Who was the first and only Indian female wrestler to win a medal at the Olympics in 2016?
Reply: Sakshi malik
Also, answer Amazon quiz answers today
5. Who is the first ever Indian fencer to qualify for the Tokyo Olympics Game 2020?
Reply: Bhavani Devi
6. What do the five rings on the Olympic symbol represent?
Reply: The five continents
7.  The five rings of the Olympic symbol are in five different colours Red, Green, Yellow, Blue &…….?
Reply: Black
Updating remaining question
8. At which of the following Olympics were gold medals made of pure gold last awarded
Reply: 1912
Similar quiz contests
Amazon The credit card quiz answers – 100 winners -1,000
Amazon Rewind 2020 quiz answers – win 20,000
Oyo quiz answers win Paytm cash
Some Rules to get you started
Remember, Guess What? can be played only once in this week
In Guess What?, you've to guess the answer based on cues and jumbled letters
Your chance to earn InterMiles is more when you answer all questions correct
Once you start, you will not be allowed to skip or go back to a previous question
If you cancel, you will not be able to win InterMiles or start a fresh round
You will get 90 seconds to complete this quiz
How to play intermiles quiz
Download intermiles app from Google Play Store.
Open the app and create an account.
Now on the bottom of the home screen, you can see Intermiles every day > scroll a little bit. Here you can see the quiz thon banner.
Click on it. You need to pay 99 rupees to play this quiz. You will get Red+ membership and it is valid for 12 months.