UPI offer. Get 25 cashback on 1st Money Transaction with Shareit. Now not only share files but also share money with SHAREit. Offer valid for all users.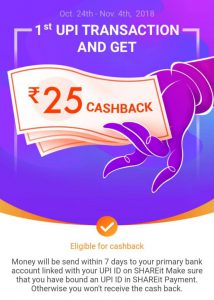 Click Menu
You are now able to see this. Click on my payment and register like every other UPI account.

finally start payment with your bank.
Get ₹25 cashback on your 1st UPI transaction
will get ₹25 cashback on your first UPI transaction on SHAREit.
In a transfer deal, the offer is not valid for the payee. Notice: 'Request Money' is not valid
The minimum transfer amount to avail of the offers is
SHAREit users can redeem this offer only once.
Each UPI ID can get cashback only once.
Offer Duration
Oct. 24th, 13:30 – Nov. 4th, 23:59, 2018.
How to Redeem
You will receive cashback within 7 days into your primary bank account linked with your UPI ID on SHAREit automatically. Please wait patiently.
You will get a message from SHAREit after getting the cashback.
Make sure that you have bound a UPI ID in SHAREit Payment. Otherwise, you won't receive the cashback.
You must pay via UPI if you want to get cashback. The offer will not be valid if you pay via any method, such as Paytm.
In a case of dispute, SHAREit reserves the right to a final decision on the interpretation n any time.