Onecode referral code (one@141814). Apply this referral code you will get 50 rupees signup bonus.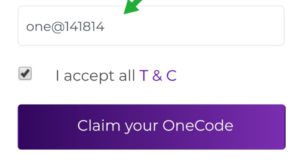 How to apply referral code in oncode
Vist onecode from here.
Referral code will be automatically applied if you visit from above link. If not apply this onecode referral code – one@141814 manually.
Fill your name, mobile number and fill a onecode like I have filled 141814 you can enter any alternative number that will be your one code.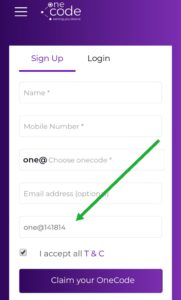 Finally, click on claim your onecode option. you will get 50 in your onecode wallet.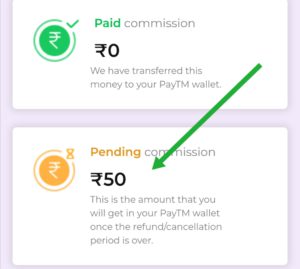 you can see 50 in your wallet. It will be automatically credited to your Paytm after your 1st order.
How to check your oncode
Click on menu you will see onecode remember your onecode.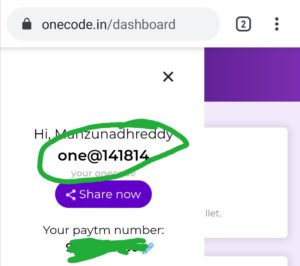 (at the time of updating this post). Scroll the page you will see 2 offers one is 1mg and the other is orangesomething.
Check the below image you can see 225 cashback on transaction of 300 and above on 1mg for new users. With this offer, you will get 225 and already you got 50 with my referral code.
The entire money will be credited to your paytm wallet. After the return period is over.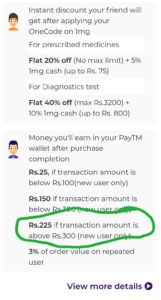 Orangesomething
Almost similar offer on orangesomething. You will get 25 cashback on minimum order of 100 and above. You got already 50 signup bonus. Total you get 75 in your paytm wallet.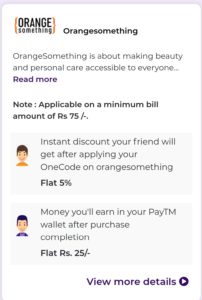 I will explain to you how to order from 1mg with onecode.
How to order from 1mg with onecode
It's easy to order with onecode on 1mg.
Visit 1mg app are you can use website.
add products worth 300 and above. You can use 1mg cash if you have. The total order value must be over 300 excluding taxes and delivery charges.
On the next page, you see an option to apply promo code. Apply your code. You will get some discount with that code.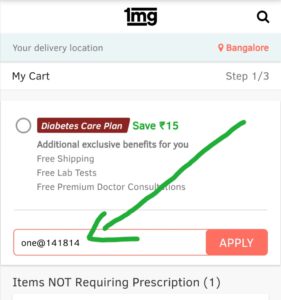 Finally, pay with the preferred payment method. You can pay with amazon pay and get extra cashback.
It will take 2-4 days to track the cashback. You can see it in onecode dashboard.
The money will be automatically selected your paytm wallet after the return period is over.